In the productive operation of a warehouse, the operative words are "better, faster, cheaper" – achieve close to 100% accuracy, get orders out faster, and do all that at the lowest cost possible. Warehouse automation seems to be the current vogue, but staff training is still a critical component.
Rarely a month goes by these days without another major automated warehouse announcement hitting the news. For example, Woolworths recently announced plans to invest in an automated Regional Distribution Centre and a semi-automated National Distribution Centre (DC) in the Moorebank Logistics Park in Sydney.
The two distribution centres are set to open in 2023 and 2024 and are expected to provide around 650 jobs once fully operational. "Both sites will build on semi-automated and automated technology deployed at Woolworths' (recently opened) Melbourne South Regional Distribution Centre… The Woolworths Group will invest around $700 – $780 million in the technology and fit-out of the two distribution centres over the next four years."
Coles, Amazon and Costco have also announced major automated warehouse plans in the near past. But what do you do if your business is not one of the majors with hundreds of millions to spend on a fancy new facility?
Automation and training: Get the best of the two worlds
Optimising warehouse productivity – achieving the better, faster, cheaper mantra – need not send your company bankrupt. Rather than aiming for flashy new investments in buildings and technology, here are some basic ideas to help you start along the way to championing warehouse productivity.
Optimise warehouse layout – and practice picking
Whether your warehouse is a hundred square metres or a hundred thousand – or indeed if you are just starting out in your garage – laying out your warehouse according to the ABCD principle and some logical groupings will speed up your picking processes and help reduce picking errors, as well as assist in packing and dispatch. Your 'A', or fastest moving products, should be at the front and in the most prominent position, with easy access and ample storage space. Behind these the 'B' and 'C' product groups, followed at the back by the poor little 'D's, those seasonal or special-order items that rarely if ever get ordered.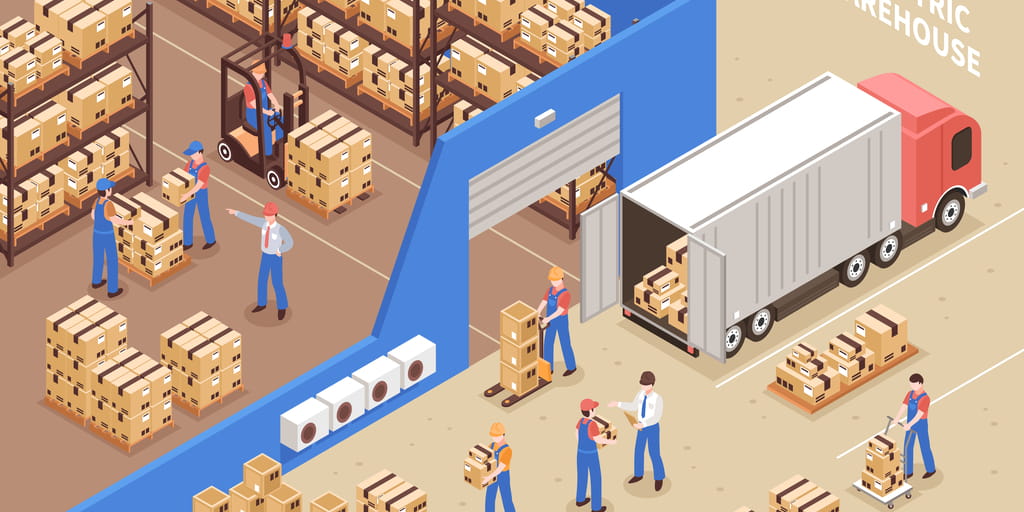 Getting all warehouse staff and operational managers to do frequent practice picking exercises not only helps staff memorise locations and develop economical and practical picking routes, it also highlights to supervisors and managers any obstructions and hinderances to the picking process, enabling them to revise locations and storage equipment.
Process automation: quick, cheap gains – but don't forget the training
Once you have optimised your storage area, it is time to look at stepping beyond fully manual picking processes. Manually ticking off picked products from a printed order sheet works well in low-volume, small-area warehouse environments. But as your business grows, the increasing number of products shipped will demand progress beyond the manual process.

Extensive labelling to enable the use of barcode scanning and verification is the first and most productive step on the way to warehouse automation. Investing in a reliable Warehouse Management System (WMS) will allow you to take advantage of productivity tools such as picking order (route) setting, location scanning, and quantity confirmation. And while the investment in this software may be considerable; the hardware need not be big and expensive.

Efficient and reliable printers such as Brother's TD-4 Professional Barcode, Label and Receipt Printers allow you to print clear, long-lasting barcode labels for location (shelf) labelling as well as for products and dispatch containers (e.g. cartons).
Barcode scanners come in a wide variety and range from handheld scanners to mobile phone-based devices, fingertip or head-mounted, and for ambient or cold environment use.

Training in the use of scanners, however, needs to go beyond just the use of the scanning equipment and the software, and focus on the business process as well as the detail. Far from robotising, scanning-aided picking processes with appropriate training allow staff to develop and optimise their own workflows and take pride in their achievements and improved performance.
Bring the goods to the person
Depending on the size of your business and the kind of products you sell, barcode scanning may well satisfy your picking automation requirements and you will look into storage and movement optimisation – such as Automated Guided Vehicles (AGV), high-level order pickers, Automated Storage and Retrieval Systems (AS/RS) and, perhaps, fully robotic picking.
These are, however, systems that start to go into the high-level investment category. For those who prefer to retain the human touch in their order fulfilment activities, Goods-To-Person systems (GTP) may prove to be the ideal interim solution.
The traditional method of filling orders, called Person-To-Goods fulfilment (PTG), involves workers going to different zones to find products. That means a lot of non-productive walking back and forth. GTP order picking removes much of the walking and human intervention from the process, resulting in error reduction as well as efficiency gains. The GTP equipment retrieves goods from shelves and delivers them to the picker's workstation, who picks and places items in totes.
When do you?
As your business grows, you will find your existing processes and equipment may begin to lag behind your sales. Asking your staff to work longer is only an option for so long; putting more staff on is often not as easy as it sounds; and investing in new premises and equipment may well be too expensive.
So, before you investigate these possibilities, ask yourself: are you and your workers as productive as they can be? Are they using your existing facilities and equipment to their full potential?
Training is the key
Before you make the decision to put on more staff, move to new premises and invest in more automation, training remains the single most important factor after you've signed off on implementing one or more of the above steps.
With good training, workers will take pride and ownership in their work processes, and when you decide on further automation, they will look forward to it, rather than resist it. Because all change is met with some resistance, and when it comes to implementing warehouse automation, these changes may be met with trepidation as workers fear that their value will be displaced by automated machines and robots.
Proper training and change management can help smooth the process of change and ensure efficient operations. Employees who know they are supported and valued by the company through ongoing training are motivated to perform at their best, increasing overall productivity and efficiency.
We hope you've found this article helpful to your business. Contact us if you would like to find out more about Brother's labelling and mobile print solutions.