According to the Australian Institute of Family Studies, 67% of us now work from home, compared to 42% pre-COVID. It's a change that's prompted many Aussies – limited by real estate options and prices – to move their home offices into their backyards.
"Working from home successfully depends on a supportive environment," says Dorothy McDonald, Senior Manager, People & Corporate Support at Brother International Australia.
"A comfortable workspace helps establish good habits and sustainable productivity. One way to balance work and home life is to have a designated workspace, such as a separate office shed or studio, making it easier to get into the zone, hold meetings without being disturbed and, most crucially, separate work and home life. At the end of the day, you can just close the door on your work – not always as easy to do when your office is in the house."
A shed office can also add value to your property, plus it's a lot easier – and cheaper – than you might think. From converting a current shed, to using a prefabricated office pod, there's an option for every budget.
What to consider when building your backyard office
An outdoor office requires surprisingly little space. Cabin Kits Galore, which specialises in self-assembly timber kits, offers one that's 9sqm or 3m x 3m. While Inoutside offers prefabricated office pods from 15sqm in size. 
Although it's recommended you engage a professional for the best finish – doing it yourself is possible.
When it comes to council regulations and approval, Domain states that most local councils will permit a 10sqm shed without approval.
And the cost? That depends on what you want. Cabin Kits Galore prices start from $9,800 while renovating an existing shed will be quoted on a per-case basis. Considering the amount of time you spend in your office space, it's not as scary as you may have thought!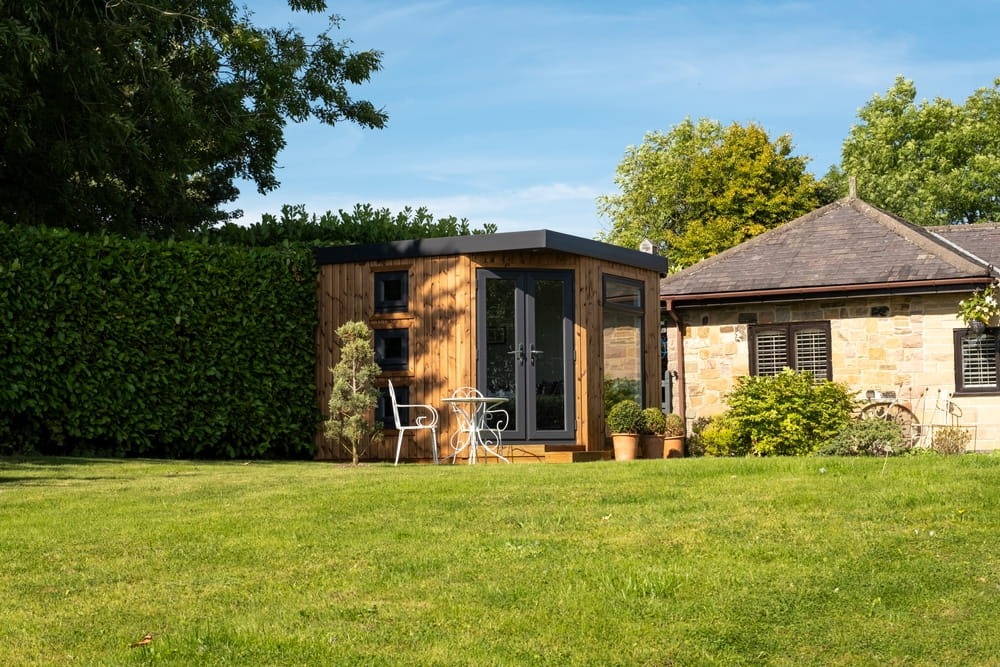 Must-have tech for your backyard office
To get your backyard office up to spec, you'll also need electronics and Wi-Fi. Most prefab and building kit suppliers can handle that for you, as well as provide insulation to protect your electrical gear and keep you warm during those winter months.
If you're taking a lower budget approach, you'll still need to engage an electrician, as DIY electrical work is illegal in Australia. According to EasyShed, on average, electricians charge around $50 to $100 an hour. 
When it comes to what you need to start work, the mandatories are a good quality screen to reduce eye strain and optimise workflow, a pair of noise-cancelling headphones to block out distractions, a Wi-Fi modem to keep you connected, and a fast, reliable printer, like those from the Brother INKvestment range.
Safety considerations for backyard offices
In engaging a contractor or buying a kit/prefab, you'll have covered external safety considerations such as ground and structural assessments, while an electrician will ensure all wiring is safe.
Internally, your main focus should be on creating a healthy, comfortable workspace – from natural light to ergonomics.
Taking advantage of natural light is a smart move. Aim for a north-facing structure and consider the climate – lots of natural light might sound lovely in autumn but you may overheat in summer. This can also have the added benefit of reducing your power bills.
When it comes to ergonomics, it starts with a comfortable chair. Be sure to look for one with adjustable height, backrest and seat depth. Built-in lumbar support is also key. Your desk should then be your next consideration. An ideal desk height will allow your forearms to rest parallel to the ground and your feet to be flat on the floor. Make sure your elbows sit at a 45-degree angle above the desk too.
Many workplaces can help you set up your workspace properly or you can download a Safe Work Australia guide on how to go about this.
Although more complex than setting up in your home, creating an office pod will not only maximise space but allow you to create a workspace tailored to your want and needs.