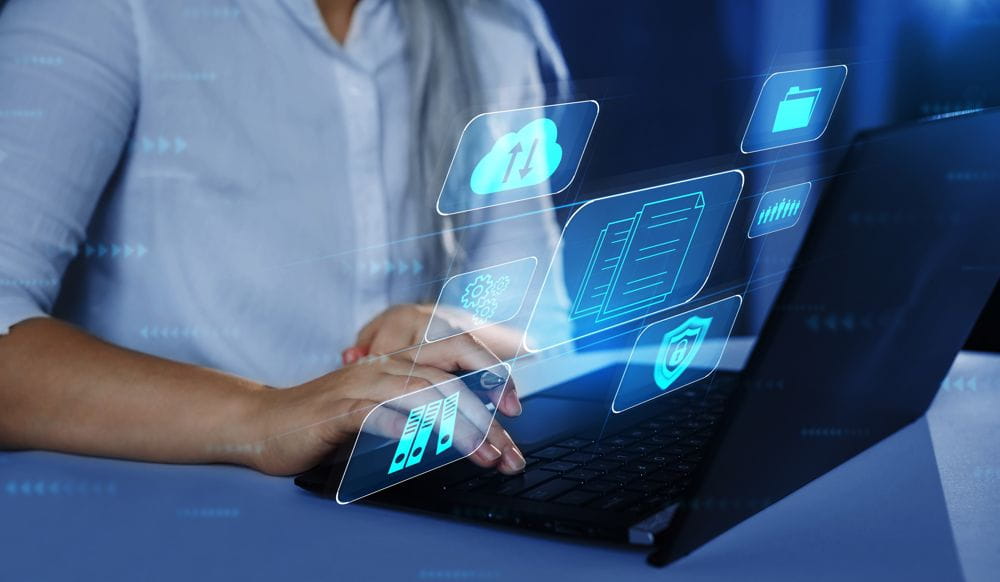 Documentation is a staple part of any business process. Organisations large and small rely on documents on a daily basis, whether it be to file a report, complete a project or communicate with clients and colleagues.
But if your document management process is lacking efficiency, order or security, these workflows may be disrupted, delayed or fall through the cracks entirely.
To root out any inefficiencies in your business, let's take a closer look at your document management workflow and where potential vulnerabilities may be derailing your success.
Why document management is critical to your business
Before you can eliminate inefficiencies in your document management process, you need to understand the significance of managing documents in an orderly and standardised manner.
Records management is becoming an increasingly important legal imperative, especially when it comes to sensitive information. Whether you work in healthcare, logistics, retail or professional services, consumers and governing agencies alike are clamping down on how businesses internally manage, control and disclose sensitive or confidential information.
After all, consider the sensitivity of your internal files, which might include:
Employee personal information
Financial information
Partner, patient, client or customer information
Contracts
Strategic plans
Medical histories
Policies and procedures
But ineffective document management doesn't just put privacy at risk, it also can bog down productivity without the right resources. In fact, according to data from Wakefield Research, 54% of office professionals spend more time searching for documents and files they need than responding to emails and messages.
That number raises two important questions: Where do the lost documents go? And how much more productive could your employees be if they could access them easily and efficiently?
Examining your document workflow
Spotting inefficiencies and weaknesses in the document workflow will require putting your entire process under a microscope. But before you can do that, you need to know what to look out for.
There are many hallmarks of ineffective document management, but here are some of the most egregious:
Reliance on pen and paper: Traditional document control processes are often performed on pen-and-paper logbooks and recordkeeping systems. Though convenient and possibly what your business is used to doing, this is inevitably error-prone, time-consuming and requires ample manual intervention. Even worse, it requires physical storage space and necessitates combing through folders and filing cabinets for information
No formalised policy: If your organisation lacks a standard document management policy, you essentially have no rules and guidelines for how employees should access, share or store sensitive documents. This can put corporate data at risk if employees aren't careful or are acting maliciously
Not filing documents with intent: Whether digitised or not, if you aren't filing documents in an organised fashion you're making it more difficult for coworkers to access them. According to Wakefield, more than half of office professionals rank quickly finding files they need to be a top three problem that needs solving
Not leveraging hardware to your advantage: Cutting-edge technologies like many of Brother's scanning and multi-function devices can be supported by Optical Character Recognition (OCR) capabilities and One-Touch Shortcuts. These tools not only streamline digitisation, but also enhance your document collaboration efforts once they've been scanned and filed away
Not tracking version histories: Without access controls or insight into how documents are changed, you won't be able to produce an audit trail if something goes wrong. Even worse, you never know when an unauthorised individual might be accessing sensitive information
The benefits of effective document management
Fortunately, there's a better way to control your documents and streamline management, retrieval and collaboration workflows across the board.
Effective document management is all about optimising your processes at every stage of the document journey. Between digitising paper files and capturing data with an OCR-equipped scanner and storing your documents as securely and efficiently as possible, the right solution can yield a number of key benefits:
Information accuracy: OCR eliminates manual data entry and creates easily searchable PDFs of your documents
Streamlined processes: No more double-handling data or duplicating work when you have a standardised capture procedure and centralised repository of information
Improved access: Digitising files into a secure central location enables hybrid employees to access their documents from any location
Print security: Effective document management processes encrypt digitised files and apply password protections so that only authorised personnel can access them
Increased visibility: You can easily track changes to documents, create an audit trail and control who can access which files
Collaboration: OCR generates searchable and editable documents, which enables you to keep them in digital storage and empowers hybrid workers to collaborate as if they were side by side
Sustainability: Digital documents are inherently more sustainable than traditional paper copies and promote more environmentally friendly printing habits
These are advantages that pen-and-paper recordkeeping systems simply cannot provide. Fortunately, there are tangible and highly accessible solutions that can turn your document management dreams into a reality.
Brother's robust range of scanners, printers and multi-function devices are equipped with the technologies and capabilities you need to optimise document control processes throughout your business. Our portfolio of solutions are the ideal way to streamline your workflows, cut down on waste and maximise efficiency.
For more information on how our document management solutions can help your organisation, please reach out to our team today.